Mary Fitzgerald, LMT
Hello, I am Mary Fitzgerald, a PA Licensed and ABMP Certified Massage Therapist specializing in Sports and Rehabilitative Massage, serving the Lehigh Valley area since 2004.
My certifications include: Deep Tissue Massage, Sports Massage, Neuromuscular Therapy, Stretch Rehab, Myofascial Release, Craniosacral Therapy, Swedish Massage, Thai Massage, and Shiatsu. I am fully PA Licensed and insured. I specialize in treatment of both chronic and acute injuries, sports injury rehabilitation, and pain management.
I enjoy working with clients from all walks of life. I believe in outcome-based Massage Therapy, providing whatever mix of treatments necessary to bring each individual client to their full potential. Whether your ambitions include running a marathon, keeping up with the grandkids, deep relaxation, or just being able to accomplish your daily tasks without pain, my mission is to provide you with skilled and knowledgable services, and assist you in reaching your goals. I strive for an interactive approach to treatment therapies. Each appointment is individually tailored to bring the optimal results for your specific needs.
Jill Hedges, LMT
Jill Hedges is a Pennsylvania Licensed Massage Therapist and certified Reiki Master. She graduated from Health Options Institute in December 2009 with 631 hours of training.
She specializes in Deep Tissue Massage, but is also certified in the following modalities: Neuromuscular Therapy, Sports Massage, Reflexology, Swedish Massage, Reiki, Craniosacral Therapy, and Prenatal Massage.
Massage therapy is a career of passion for Jill. She loves helping people and believes it is a true gift to be able to do so. She was a civil engineer for 5 years before making this career change. She feels it has been a wonderful change and allows her the flexibility to to spend time with her husband and 3 children.
Marcie Albertson, LMT
Marcie is a 2010 graduate of Health Options Institute. She specializes in Deep Muscle, Swedish, Neuro-Muscular, Hot Stone, Pre-natal, Reiki, Energy Therapy, Oncology, and Lomi Lomi Hawaiian Massage. Marcie has been an artist and performer in the Lehigh Valley for over 10 years. As Youth Program Director for Allentown Public Theatre and as a painting instructor for Roey's Paintbox, she has discovered a variety of healing outlets for herself as well as her community.
"Massage Therapy is an art! It can be beautifully life changing to any individual in their own way. By using traditional as well as contemporary techniques, I strive to create a healing environment for everyone that I can!"
Angela Rundle, LMT
A Licensed Massage Therapist for 7 years, Angela is a Graduate of Health Options Institute in Bethlehem, PA where she also acted as Supervisor of the student massage clinic. She has worked in gyms, spa settings, and independently. Angela has training and experience in Deep Tissue massage, Sports Massage, Swedish Massage, Hot Stone Massage, Thai Yoga, Shiatsu, Oncology Massage, Mastectomy Massage, Lymphatics, Lomi Lomi, and Chair Massage. Angela has experience working with Health Conditions such as ALS, Alzheimer's, MS, Cancer, Parkinson's, COPD, Stroke conditions, Congestive Heart Failure, Brain Tumors, Nervous System Disorders , Lymphedema, Diabetes, and Dementia. All of her massages are customized and her techniques adapted and modified to best meet the needs and comfort level of each client she works with focusing on reducing pain, stress, and improving mobility.
Marissa Spencer, LMT
My name is Marissa Spencer and I'm a licensed massage therapist in the Lehigh Valley. I graduated from Pennsylvania Institute of Massage Therapy in 2015. The curriculum there geared me towards the clinical realm of this field by educating me in techniques of orthopedic massage, myofascial release, and active isolated stretching.
In my experience I have come across many pathologies such as multiple sclerosis, fibromyalgia, scoliosis, degenerative disc disease, and numerous arthritic conditions. Whether you need light or firm pressure, broader strokes or deep tissue, overall or targeted stretches, my sessions are customized to assist you in obtaining optimal health. By health, I mean physical as well as mental health. Massage therapy benefits include decreasing cortisol levels and increasing serotonin through deep relaxation, Swedish massage. If you are someone with anxiety, depression or other mood disorders, I'd be happy to tailor the session to fit your needs as well.
Outside of my career, I have 6 years of experience in the human services field which includes assisting those in substance abuse and mental health recovery. I'm the mother of two beautiful boys and happily married to their father.
Massage Therapy is a career of passion for me as I have witnessed the many benefits it offers. If you want to mprove your quality of life, book an appointment with me! I look forward to meeting you!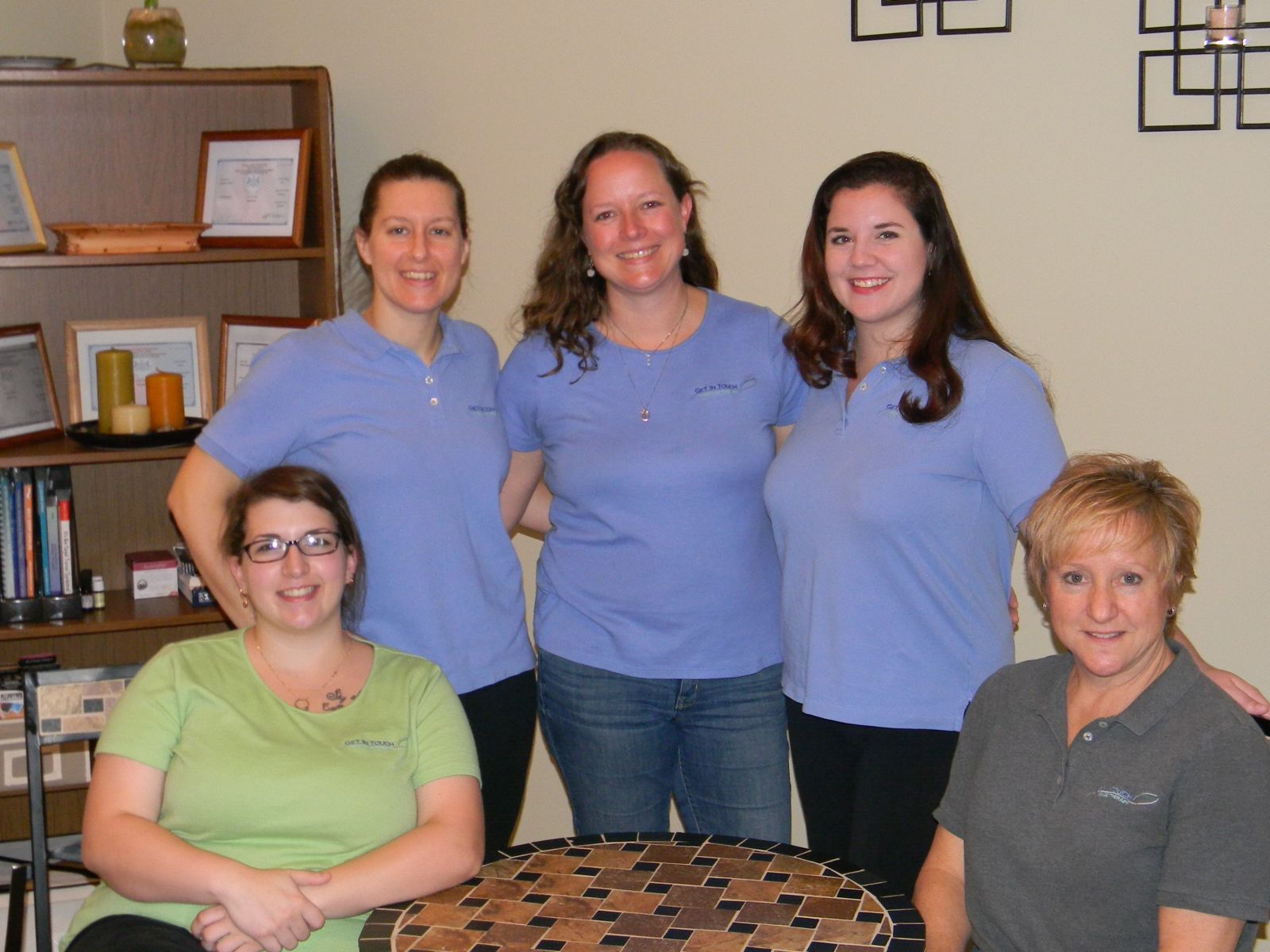 Standing L to R: Stephanie Milan, LMT, Jill Hedges, LMT, Marcie Albertson, LMT
Seated L to R: Marissa Spencer, LMT, Mary Fitzgerald, LMT, ACMT, Owner